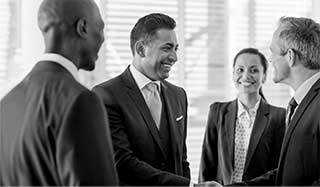 At TD Commercial Banking, we are committed to helping you move your business forward.
TD is committed to your business
Trust your business banking with TD
Our Relationship Team is committed to your business. We will take the time to understand your business, and provide banking solutions that can help you achieve your business goals.
We also offer expertise in many specific business segments which include:
---
We will take the time to understand your business, and provide the banking products, services and advice to help achieve your business goals.
---
Our local Credit and Cash Management Relationship Teams ensure you have access to the products, services and support you need to manage your business banking needs.
---
Why switch to TD Commercial Banking

Dedicated service
A dedicated, local team allowing for deeper customer relationships and better service.

Deep dive
We take the time to learn about your business and industry so that we can react to changes in the marketplace and anticipate your business's evolving banking needs. Your Relationship Team can also connect you with other specialists at TD to help move your business forward.

Implementation plan
We will meet with your team to develop an implementation plan. By understanding the way you do business and your technology set up, we can make recommendations that take into account the unique aspects of your business.

Implementation
Your local Relationship Team will work collaboratively with you and keep you updated throughout the process so that you can focus on your business.

Ongoing support
Once you're up and running, we will continue to actively manage our relationship, looking for ways to help you manage and grow your business.
---
Remco
Watch how TD helped Randy expand his business, leasing multiple warehouse properties across Canada.
---
Robinson Solutions
See how TD took the time to understand and help Michael refocus his business opportunity.
---
Van Dieten Dairy
Check out how working with TD allowed Derek to focus on the business he loves, as well as his family.
---
Agnora
Watch how Richard at Agnora moved his business forward.
---
Mississauga Toyota
See how Susan at Mississauga Toyota found the right solution for her business.
Need some help? Contact us.

Get in touch with a Relationship Manager