Cash Management Information, Consolidation & Reporting Services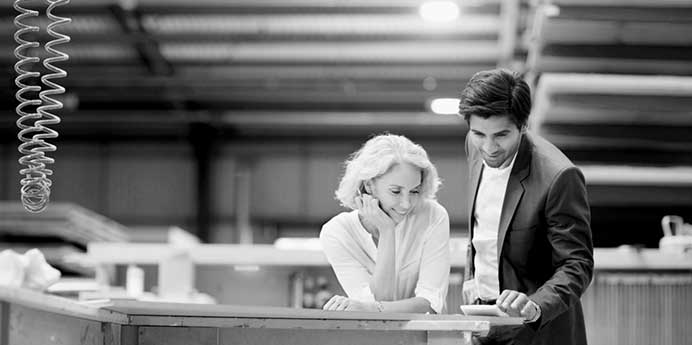 We have tools that allow you to effectively manage transfers between accounts, consolidate your balances and maximize your cash flow.
Information & Reporting Services
Balance Reporting allows you to obtain your company's current banking information online and effectively manage your daily cash flow by enhancing your ability to make timely investment and borrowing decisions.
How it can work for your business:
Query balance and transaction information to view up-to-the-minute details on your TD Canada Trust Canadian or U.S. business accounts deposit and operating loan accounts
Choose from eight standard reports or create customized report templates to streamline the information gathering process
Organizes your accounts into meaningful groups for updating or reporting
View, print and save digital images of cheques drawn on your TD Canada Trust Canadian or U.S. business operating accounts, other than operating loan accounts, cleared in Canada.
Receive consolidated payment details for electronic bill payments made through TD's Bill Payment Creditor Service and those made at other financial institutions across Canada.
How it can work for your business:
Transaction details are delivered the next business day in one consolidated report file – no need to invest in expensive technology
Eliminates the need to receive and reconcile payment transmissions from individual financial institutions
Reduces the cost of errors due to manual keying of transaction details
Cheque Image Archive Service provides electronic images of cleared cheques, which facilitates reconciliation and assists you in responding to customer inquiries.
How it can work for your business:
Self-contained search and retrieval application for quick and easy access to your cheque images
Reduces storage space requirements
Encryption key provides security a safeguard to keep your data confidential
FILElink service allows access to your company's account balance, statement information and reports through your personal or mainframe computer. This allows you to manage your cash flow requirements more efficiently and simplifies routine account reconciliations and queries.
How it can work for your business:
Provides a fast and accurate means of obtaining previous day account balance and transaction information for a day or range of days up to a maximum of 31 calendar days
Customized spreadsheets or reports by importing a BAI or EDI821 file of account information into your own software application or download an easy-to-read report through Web Business Banking
Incoming Payment Notification Service allows your company to receive near real-time notification of your Incoming Wire Payment details. You can also receive a consolidated report for Interac e-Transfer® payments made directly to your bank account.
How it can work for your business:
Incoming Wire Payment Notification
All-Day Notification to track receipt of funds throughout the day (email notification available)
End-of-Day Reporting with consolidated Incoming Wire Payment details at the end of the day
Interac e-Transfer® File Notification:
Receive a consolidated report of your incoming Interac e-Transfer Direct to Account transactions (Interac e-Transfers via Email and SMS/Mobile are not included)
The report will be available on the next business day
Simplify account reconciliation
Access additional remittance details for your Interac e-Transfer Direct to Account payments, if provided by the sender
Information Exchange Service allows your company to share non-financial Electronic Data Interchange (EDI) files, such as purchase orders and invoices, with your customers and suppliers through a central Information Exchange Service.
How it can work for your business:
Enables your company to move away from paper documents to an EDI-based electronic file format
Allows for the automation of accounts payable and receivable by exchanging purchase orders and invoices between you and your trading partners
Increases efficiency with a single communication portal for the delivery of all non-financial and financial payment information, once fully integrated with EDI
Reduces clerical work and error through implementation of automated processes providing efficiencies and a streamlined back office process
Consolidation Services
Automated Transfer Service allows you to automatically transfer funds between your TD accounts. You can also set up predetermined transfer amounts and frequencies.
How it can work for your business:
Offers the opportunity to earn interest or reduce borrowing and administration costs by applying consolidated funds against your operating loan
Provides verification of deposits and an audit trail
This service provides a convenient end-of-day funds transfer option that allows you to consolidate Canadian or U.S. Dollars deposited at other Canadian financial institutions to a designated concentration account held at a TD Canada Trust branch.
How it can work for your business:
Consolidates funds to maximize investment opportunities and minimize borrowing requirements
Delivers a comprehensive summary of transfer activity with detailed reports, which saves administration expenses
Provides flexibility and access to banking in areas where TD Canada Trust branches are not located
Simplifies reconciliation and deposit tracking with a unique reference number for each deposit location
Corporate Transfer Service allows deposits to be made directly into your Canadian or U.S. Dollar accounts from any TD Canada Trust branch in Canada. This eliminates the need to have bank accounts at each deposit point and facilitates information management and control over multiple site deposit activities.
How it can work for your business:
Provides daily and monthly reporting for each depositing location which saves time and administrative expenses
Mirror Accounting Service is a concentration service that enables you to pool current account balances from your various divisions or subsidiaries in an automated fashion while maintaining operating account autonomy among the participants.
How it can work for your business:
Potential for higher interest earnings
Permits inter-entity lending/borrowing to minimize the use of operating loans
Minimizes workload as funds are automatically consolidated into a single concentration account
Allows for monitoring of subsidiaries' activity without affecting their autonomy
Simplifies operations as only one operating line of credit is required at the concentration account level
Interest Allocation Service is a service exclusively for those customers using the Mirror Accounting Service. It provides you with a monthly report of the daily account balances and interest earned/owed among all accounts participating in the Mirror Accounting Service.
How it can work for your business:
Automatically tracks and calculates inter-entity lending activity, which allows you to treat each entity autonomously. Eliminates the complex administrative and accounting task of tracking inter-entity lending/borrowing activity, particularly during periods of fluctuating interest rates
Allows for a flexible inter-entity borrowing rate that you can modify
Facilitates statement preparation with period-end reports
Need some help? Contact us.